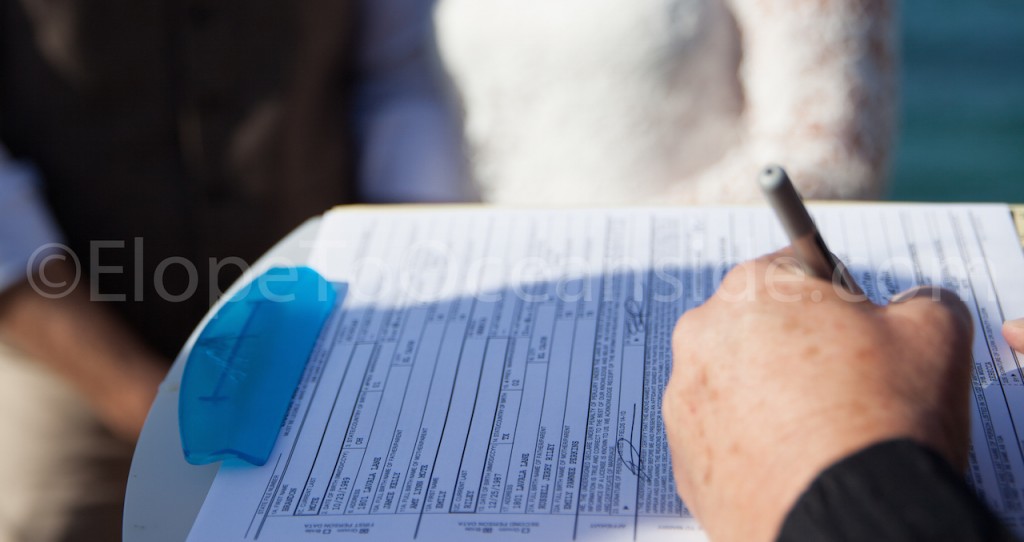 SAN DIEGO MARRIAGE LICENSE
Appointments are required in San Diego. (Appointments are not needed in other nearby counties)
Both parties must appear together at one of our office locations: (listed below)
Requirements
Each person must present one form of valid photo identification with proof of age. To expedite the identification process, it is recommended that both parties bring a certified copy of their birth certificate.
Witness Requirement
1. You will not need a witness to purchase a marriage license.
2. If you are having a civil ceremony and have already purchased a public marriage license, you will need at least one witness.
3. If you are having a civil ceremony and have already purchased a confidential marriage license, you will not need a witness.
If either party has been granted a divorce or filed a "Termination of Domestic Partnership" within 90 days of applying for a new marriage license, a copy of the final divorce decree or termination documents must be presented at the time of issue.
The Name Equality Act of 2007 (AB102, Chapter 567, Statutes of 2007) gives specific rights to parties at the time they are applying for a California marriage license to choose and list on the marriage license the new name that each party will go by after marriage. Please refer to the Name Equality Act.
A blood test is not required.
There is no residency requirement in California.
Your marriage license is effective immediately and valid for 90 days anywhere within the state of California.
Once you have your marriage license the ceremony can be performed at the church of your choice, a wedding chapel, or a civil ceremony may be performed by this office.
After the ceremony, the license must be returned to our office for recording. Certified copies may be purchased one week after the license is returned to our office.
For San Diego County Marriage License information on Fees, Office locations and hours:
San Diego County Clerk and Recorder
As a courtesy, additional Southern California County Clerk websites are linked below. If your County is not listed, simply search for "County Clerk of (Name of County)" for more information.
Riverside County Clerk and Recorder
Orange County Clerk and Recorder
San Bernardino County Clerk and Recorder
Los Angeles County Clerk and Recorder
Imperial County Clerk and Recorder
---
CLICK HERE for no obligation information